I wanted to write a post on how to make a beat in GarageBand. In my experience, it is the best software for beginners to start beat making. In this post, I will show you how you can build a beat in a few minutes using the drummer program and music loops for GarageBand.
Although you can use the software in a complex way, you can also have a blast making music by assembling loops together. In my experience, it is the quickest and easiest method to create unique songs, which is, by the way, the core aspect of La Scratcheuse's online music maker. Indeed, La Scratcheuse is an online music maker with loops.
Besides, before we go further, I would like to state that I'm not a beatmaker and that, except from my basic music knowledge, I'm not a skilled musician. However, I find GarageBand very interesting for creating quick beats using Apple loops and the Drummer program. I think it's a perfect introduction to how to use GarageBand for beginners.
Therefore, thanks to this method for beginners, you will be able to focus on your creativity and on your ability to construct songs, rather than struggling to master software. Eventually, it will also be a good introduction to exploring this music-making software.
What's Garageband app?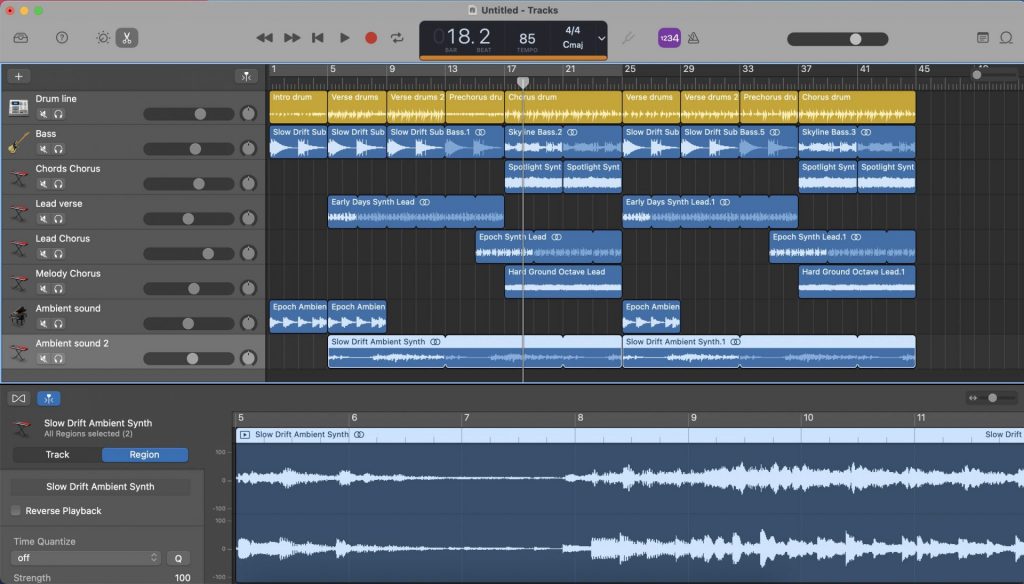 GarageBand is a suite of digital audio workstations for macOS, iPadOS, and iOS devices that allow users to create music or podcasts.
What is GarageBand used for? The music and podcast creation system allows users to create multiple tracks with pre-made MIDI keyboards, pre-made loops, various instrument effects and voice recordings. Among other things, you can create beats in GarageBand.
When did GarageBand come out? GarageBand was developed by Apple for macOS and was once part of the iLife software suite, along with iMovie and iDVD.
How much is GarageBand? It's totally free. All you need is an Apple ID and you can download it on the Appstore from your MAC, iPhone, or iPad.
What will this tutorial on "how to use GarageBand on a Mac for Beginners" show you?
In this tutorial, I will describe my process of making a beat with GarageBand and, more specifically, making music with loops. Because I'm a rap lover, this example shows how I make hip hop beats in Garageband, although the same method can be applied to rock, indie, and other styles. In the end, the main goal of this post is to show you how to use music loops in GarageBand.
In a nutshell, there are seven steps in this tutorial.
Open a project
Open the drummer program.
Create drum portions and structure your beat.
Create variations in your drum track.
Drag and drop Apple loops.
Record your voice.
Mix the different tracks and manage the mastering.
Export your beat.
Thanks to this tutorial, I hope you will learn how to use GarageBand and how to make music in GarageBand without instruments.
First step: Open GarageBand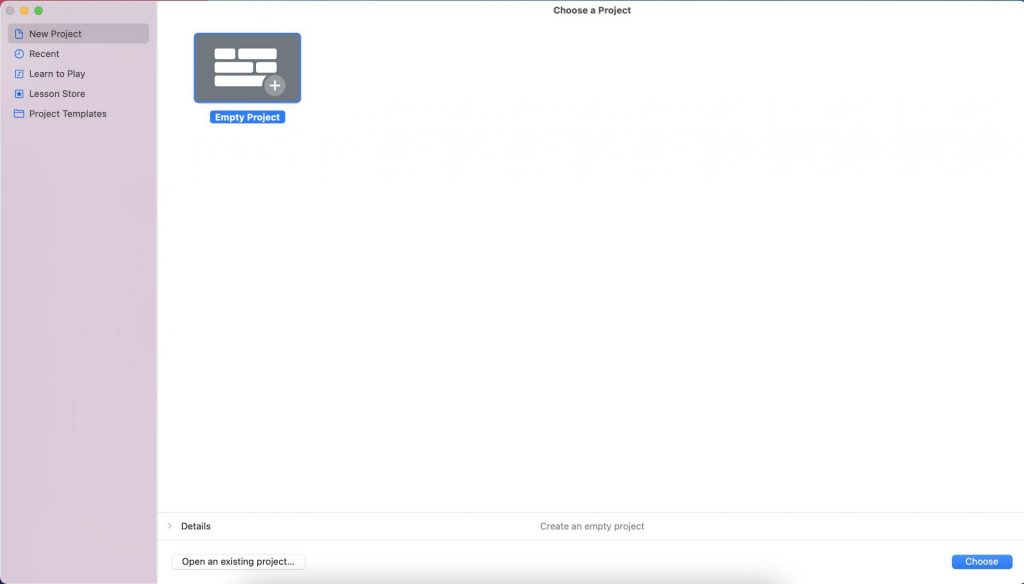 When you open GarageBand, click on "Empty Project."
Second Step: Open The Drummer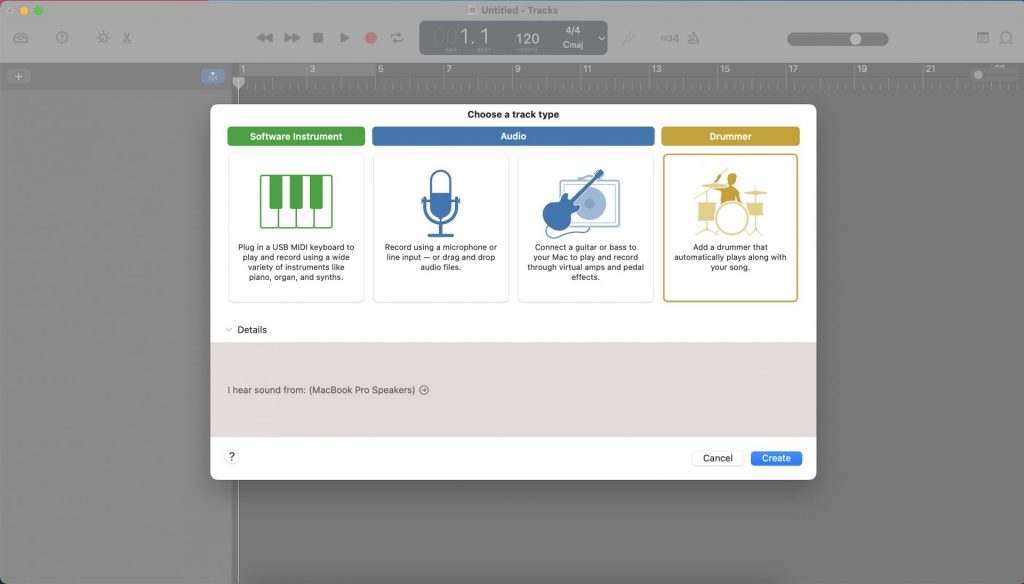 Once you open a new project, Garageband will ask you to choose a track type. As we will see later, the beat will be composed of different tracks, such as the drums, the bass, the melodies, and the leads. To begin with, I prefer to start with the drum track. So click on the drummer icon.
After you click on the drummer, the software shows itself. In the sequencer, you can see the drum track that lasts 8 bars by default. We will modify it and extend it later. But first, we need to set the drummer and sound preset that we want.
Roughly, the drummer represents the music style. You can find various GarageBand drum kits. For my song, I chose the Boom Bap Drummer under the Hip-Hop section. Then, select a sound preset that acts on the nature of the sounds.
According to your drummer and preset selections, the software will automatically change the drum track in the sequencer.
Third Step : Structure Your Beat
A quick pause on simple beat making theory: Let's pause a second on the beat structure. For my song, I've decided to apply the following:
4 bars for the intro
8 bars for the verse
4 bars for the pre-chorus
8 bars for the chorus
8 bars for the verse
4 bars for the pre-chorus
8 bars for the chorus
4 bars for the outro
Fourth Step : Structure Your Drum Track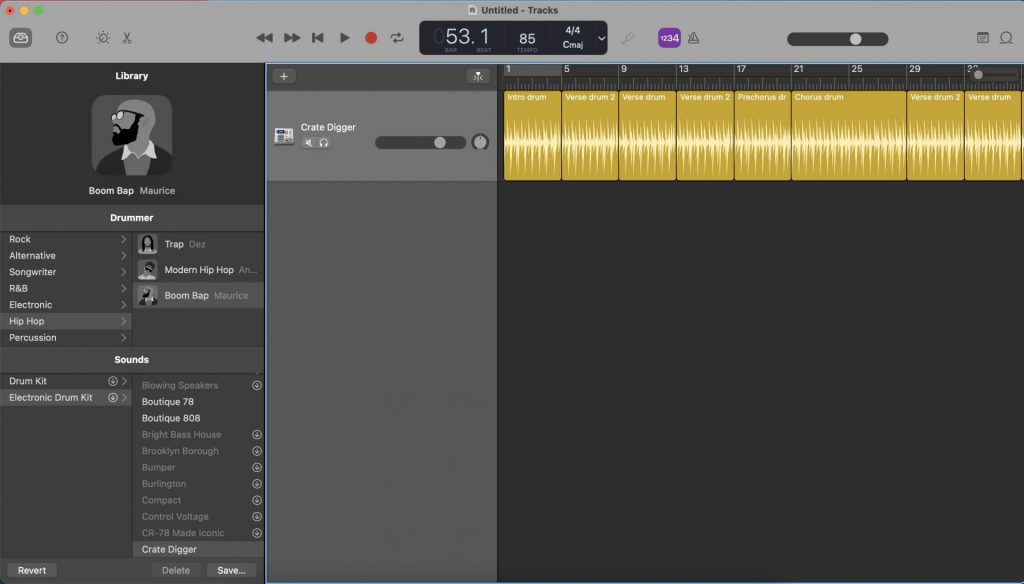 For my drum track, I've copied and pasted the original drum track (8 bars) to create different portions of 8 bars, and then I cut them accordingly with the beat structure I've decided on in step 3.
In fact, for each part of my beat, I made a drum track portion. This way, I can manage the drums separately for each part of the beat and therefore create variations and avoid monotony throughout the beat.
We have written a post on how to make beats as a beginner, and we explain in detail how to structure a beat. We recommend you read this music theory blog post.
How to cut a track in GarageBand?
Select the track you want to cut.
Place the cursor where you want your track to be cut.
Apply the following shortcut: Command + T
To know how many bars a portion of your track (or an entire track) lasts, just have a look at the line above all the tracks, which indicates the number of bars.
How to change the tempo in GarageBand?
By the way, if you want to speed up a track in GarageBand, you can change the BPM by changing the tempo near the command buttons (Play and Record).
Fifth Step: Create Variations In Your Drum Track​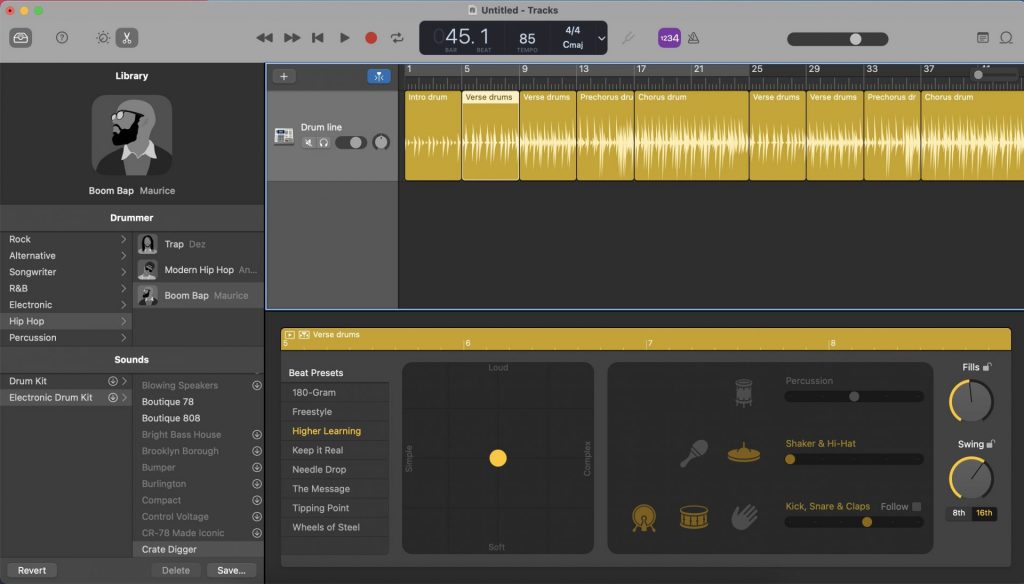 Once you segment your drum track in accordance with your beat structure, it's time to adjust each portion of your drum track, and this is where GarageBand gives an amazing drum program for beginners.
First, select a portion of your drum track. In the picture above, the second portion is selected. Then go to the control panel below, touch the settings, listen to your portion and see how it changes. It's magic and easy to understand.
How does GarageBand's drummer control panel work?
On the left, you can change the beat preset. Basically, there are different possible patterns, and GarageBand proposes various ones.
Move the yellow chip inside the grid. You can adjust the pattern from simple to complex and from soft to loud.
On the right, choose the kind of drum you want: kick, clap, hi-hats, etc.
Control the swing level and the fill level. I love the fill level because it applies changes at the end of your drum portion. It's perfect to go from one part of your beat to another, like from the verse to the chorus.
What is very important is to apply variations to your drum track. For instance, the intro is generally soft while the chorus is generally complex, loud, and beefed-up. Thanks to this simple drum program, you can make a beat on GarageBand very easily.
To go further, I invite you to read our post on how to make beats for rappers. It shows how to apply variations throughout the song so that your beat is consistent for rapping and singing.
Sixth step: Let's add Apple loops to our beat
What are music loops?
Music loops are sound portions that can repeat themselves over and over. In our case, it is very helpful because, if you find a drum loop, a bass loop, a melody loop, and a chord loop, you almost have a beat, as long as they respect the same BPM and pitch and sound well put together.
Is it bad to use loops in music? Well, it's an old debate. Let's just state the fact that most of our hip hop and pop music today uses loops. Sometimes, an instrumental is made entirely out of loops. So no, it's not bad.
What are Apple Loops? Apple Loops are music loops, royalty free, that can be used in GarageBand or LogicPro (the other Apple's music software).
Are Garageband loops copyright free? Music loops for GarageBand can be used in a song and commercialized as long as they are not sold or distributed individually. So, if you make a beat using Apple Loops, you have no limitations at all.
Drag and drop Apple loops and create new tracks.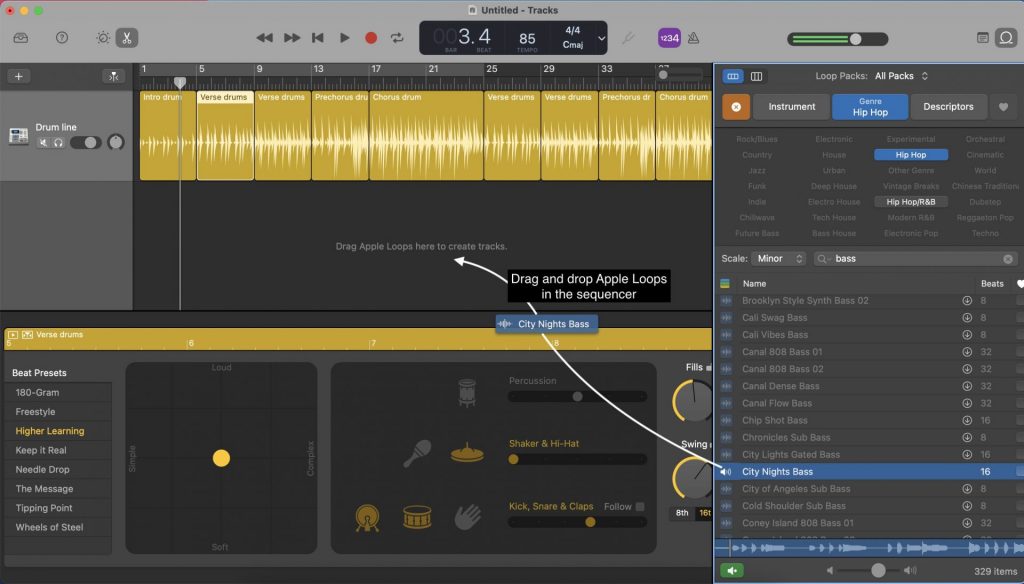 Now that I've structured my perfect drum track, it's time to add other tracks, such as the bass tracks, the melodic tracks, lead tracks, and ambient sound tracks. To do so, open the Apple Loops menu and start digging for loops. To facilitate the digging process, you can filter by instruments, styles, and descriptions.
When you find an Apple loop that you like, you can drag it and drop it on the sequencer to create a new track. What is exceptional about Apple loops is that they automatically match the current BPM and pitch, so that everything sounds good together, whatever the moves you make.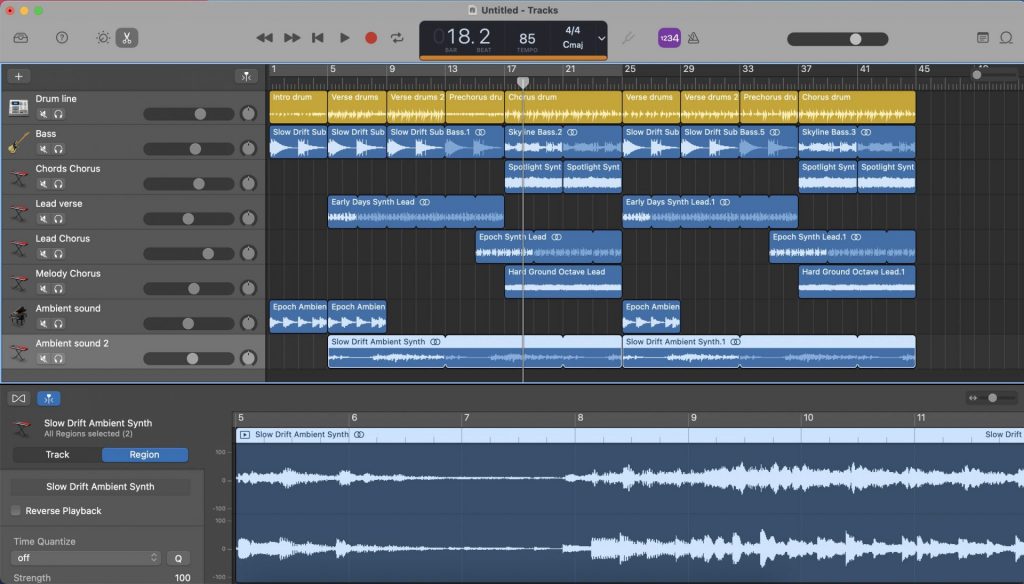 In the image above, we can see the result of my work. Basically, my final beat is composed of eight tracks:
The drum track
The bass track
The chord track for the chorus
The lead track for the verse
The lead track for the chorus
A melody track for the chorus
An ambient sound track for the verse
An ambient sound track for the whole beat.
To better understand my choice of loops and the way I've structured them, please read our post on how to make beats. It will help you better understand the kinds of instruments you need to make a complete instrumental.
Seventh step: Record a voice in GarageBand
Recording voices on GarageBand is super easy. Watch this video tutorial on how to record voices in GarageBand
Eight Step: Mix The Different Tracks And Manage Mastering​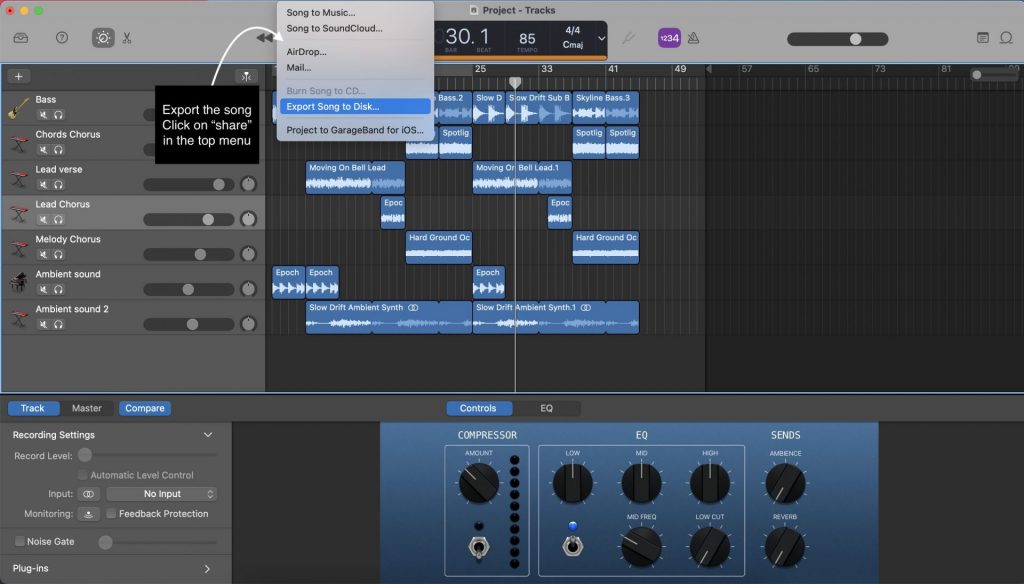 This part may be the most complicated because it can require skills and materials. However, to do it, select a track and adjust the volume, compression, and EQ. For this tutorial, I won't focus on this aspect of the production as it deserves a post itself.
What is mixing?
According to the online specialist LANDR, the goal of mixing is to sculpt the arrangement so that all the tracks are meaningful in relation to each other. Mixing is the last step before mastering. It's important to learn how to mix your tracks yourself. Controlling your artistic and creative vision will take your music to the next level. This will make you a better producer. Read more about what is mixing
What is mastering?
According to Izotope.com, mastering is the final step in audio production. It is the process of adding finishing touches to a song by improving the overall sound and preparing it for distribution. Read more here about mastering.
What is the difference between mixing and mastering?
Mixing happens at the start of post-production, when a mixing engineer sculpts and balances the separate tracks in a session to sound cohesive when played together. The mastering happens at the end of the post-production. Mastering makes the sound cohesive across the record and prepares the music for different distribution formats, such as vinyl, MP3/AAC, streaming services such as Spotify, and broadcast.
Ninth Step: How To Export In GarageBand?​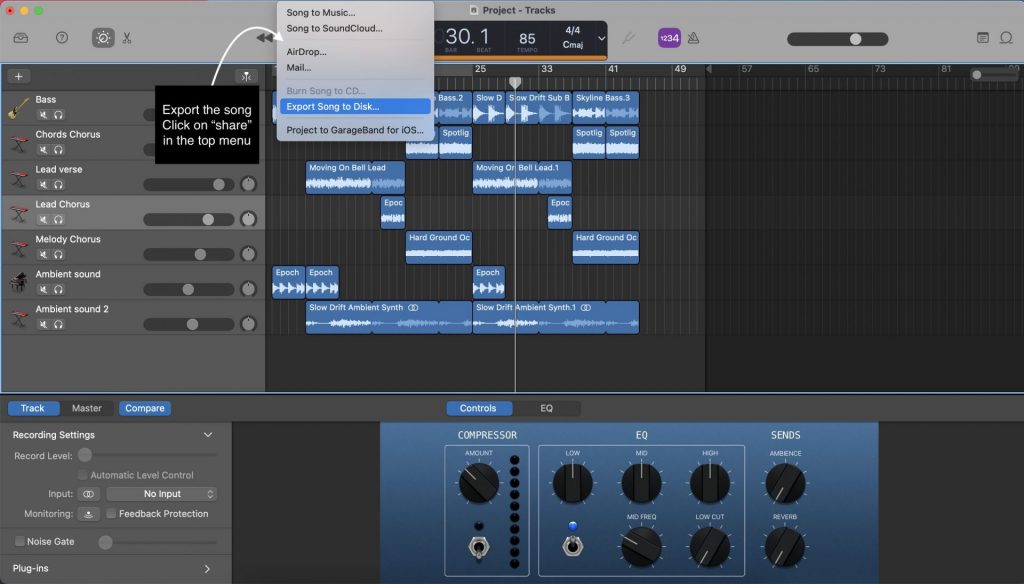 How to save songs in Garageband? At the end, you just need to open the "Share" menu and select your export choice. You can choose to export the song to the disk, or you can even export it to platforms such as the Apple Music App or the Soundcloud social networks..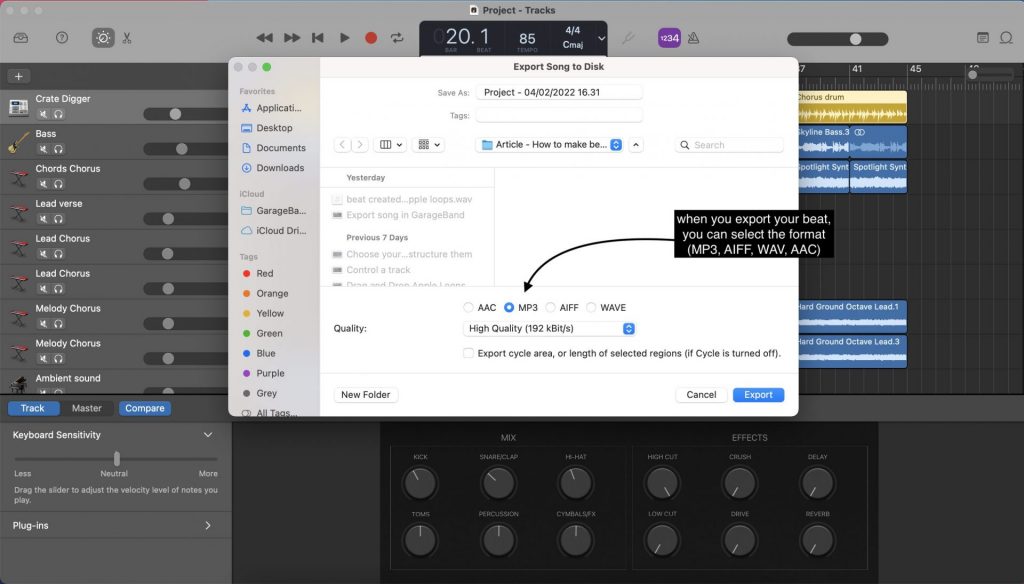 To save your beat in MP3, while you export your beat, make sure to select MP3 in the exporting window.
Let's conclude this tutorial on how to make beats on GarageBand using the Apple Loops and the Drummer program.
As a conclusion, we have tried to answer the question, "Is GarageBand good for beginners?" GarageBand is a good music software for beginners as it lets you create drum tracks easily. Besides, it's so cool because, even if you don't have instruments or you don't know how to use virtual instruments, you have a large library of Apple loops that you can synchronize. By synchronizing them together, you are actually constructing a beat.
As we said in the introduction, like GarageBand, La Scratcheuse's online music maker is so easy for beginners as it allows you to play with packs of loops in a way that is even more simplified than GarageBand. With La Scratcheuse, not only do you avoid the stress of lacking skills, but you reinforce your creativity by only focusing on structuring your beats with packs of professional music loops that sound good together.
Indeed, the inconvenience of using Apple loops in GarageBand is that you need to find Apple loops that go well together. It can be tough, long, and requires experience to browse the loops library and decide on a pack of loops for your beat. Plus, you still need to mix your tracks together and master your beat at the end of the production process. Even though they are crucial, these mixing and mastering parts can be difficult to approach when it's the first time you make beats.
In any case, I sincerely hope that this GarageBand quick start guide on how to create a beat using the drummer program as well as Apple loops helped you in making a beat on GarageBand and gave you enough motivation to start exploring this amazing software for music production even further.
Share this post