A COMPLETE ONLINE MUSIC MAKER TO START BEATMAKING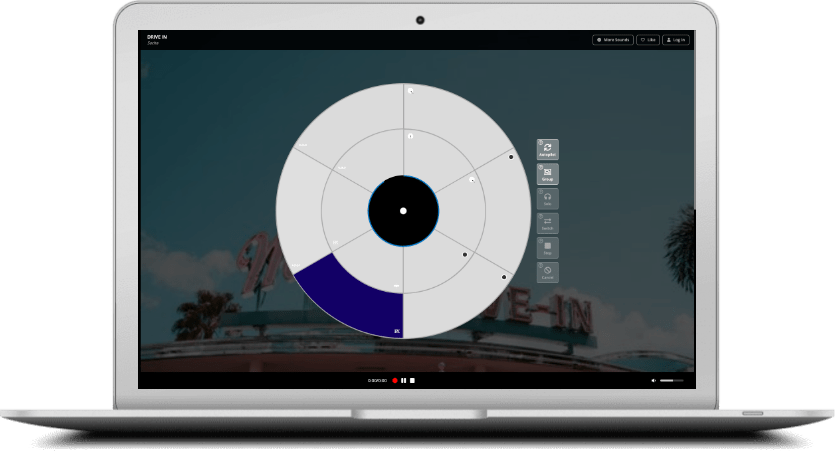 It's a fun and original music maker allowing you to structure, record, download and share your beat. La Scratcheuse's online beat maker game is a very easy to use music pad on which you play with music loops. The pad is unique as it has the shape of a vinyl chosen as a symbol to recall the first scratcher's.
A SIMPLIFIED ONLINE MUSIC MAKER TO CREATE BEATS
Dig music loops
(100% free to use)
Various pack of sounds to play with made by professional musicians. No room for mistakes, sounds were created to sound good together
Think and Structure
your beat
Play live beat making, record loops and assemble them on a user friendly timeline before saving your song. Take the time to build your own beat
Download your beat to add your voice, share it on Youtube, make money. Thanks to La Scratcheuse, you can start producing and launch your career
Play on Mobile /
Tablet / Laptop
Play everywhere, when you want, on every device as long as you have an internet connection. Create a beat from your laptop or mobile when you chill at home or outside
The best free online beat maker
MANAGE & LISTEN TO YOUR BEATS
Listen to your own beats from your account and your personal public page. Other users can also listen to your beats and like them. Get the most likes and be the best DJ of the week
On your own profile, you can find: all your beats, the beats from other users that you like the most and also your favorite pack of sounds
Make a beat online for your projects
DOWNLOAD AND SHARE YOUR MUSIC
Download the beats that you record on La Scratcheuse. Add it to your videos. Add voices and lyrics to your beats. Share your final compositions with all your friends to get your first approvals!
Share your beats on social networks and go viral! Use your beat to participate in challenges on Tik Tok. Add music to your videos. Publish your musical creations on Instagram
New loops every week (royalty free)
Select a mood or style to find the best pack of loops for your beat in our vinyl store. Our pack of sounds library is regularly enriched so that you always play with a large choice of atmospheres and music styles. Each pack of loops is made of 10 to 20 loops designed to be harmonious in rhythm and tone by respecting a unique tempo and pitch. Our packs guarantee that any combination of loops played on the vinyl sounds cool and smooth together to your ear
Experimentative way to dig for inspiration
It's a quick, experimentative, and fun way to dig for music and inspiration.
We recommend musicians, beginners or professionals, having La Scratcheuse as a source of creativity and/or learning. The fact that you manipulate existing beats and not just listen to them, lets you have a new method to dig for inspiration
Artists give you music, make good beats
Behind the pack of loops you play with on La Scratcheuse, there is a community of Publishers. Follow the Publishers with the packs you like the most and make a beat with their sounds every time they release a new pack. La Scratcheuse aims to broadcast new packs of loops everyday by continuously growing its community of Publishers. Play with packs of loops made by our community of producers. Enjoy their universe and make it yours
"I've been a music lover since forever and I appreciate your feedback on my music and your website has done wonders for my creativity concerning music I love the website it's one of the best that I have found online for free ,keep up the good work"
Kyle T.
"I have been writing songs since I was 7, and I have also been looking for a beat maker that is of high quality, then I came across La Scratcheuse! I have never been so impressed at a website more than I am now!"
Amber B.